Does this picture give you a clue as to how my last week has been? Let me put it this way…………toothaches are awful!!!  The pain was so terrible last Thursday night that we were up most of the night. I was crying it hurt so bad. Thankfully, the dentist was able to get me in early Friday morning. I have to admit, and I'm embarrassed to say, that I really, really hate to go to the dentist. That is probably the reason I have such bad teeth. I was really nervous going to the appointment but the pain was unbearable.
My husband was so loving with me on the drive over. He held my hand, rubbed my back, kept telling me how it was all going to be alright….he just comforted me. Unfortunately, I was still a nervous wreck. The dentist decided that I needed to have quite a few very infected teeth pulled (some were broken and had exposed nerves). They started the gas to calm me down but my blood pressure was high. We waited to see if it would go down any but it didn't. The dentist said he couldn't do the surgery with my blood pressure so high (the bottom number got as high as 125 and never went below 107).
Ugh! I had finally gotten the nerve up to come to the dentist and they couldn't do the necessary procedure. We made an appointment for February 7 to have the teeth removed. They sent me home with Percocet, something to keep it from upsetting my stomach, and two very strong antibiotics.
The pain was still pretty bad most of the day Friday but calmed down by evening time. The medicine, though, completely knocked me out! Literally!! All day Friday, Saturday and Sunday I literally would sleep until it was time to take medicine, then sleep again. Monday I had to come back to work – boy was that hard!! – so I was up early each morning after that. When I got home at 2:00 I would eat a snack and fall asleep by 3:00. Then I'd sleep til Tom called me on his way home from work, which is between 5:30 and 6:30! But yet I am still ready for bed at 10 or 11 each night. Gosh! I'm tired of sleeping!!
The Percocet and stomach medicine have ran out now, and I'm on my last day of the antibiotics, so I'm hoping to start waking up soon. I miss being with Tom. I miss watching our shows. I need to get some work done  around the house. I'm just ready to feel "normal" again. It has been a really rough week!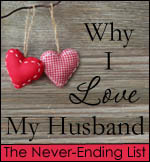 Of course, with the troubles I've had this past week, it has made me realize even more "why I love my husband". This week's list should be very easy to come up with!
6) He takes very good care of me when I'm sick.
7) He didn't get frustrated or whiny when I basically slept the entire weekend. (I can't say I would've been as understanding.)
8) He went to the grocery two different times over the weekend to get me soft foods.
9) He started a new job this week & isn't able to text me much during the day. I'm missing it, of course, but the awesome thing is that he keeps telling me how much he misses it too!
10) Even though I've been sick & we haven't gotten to really attempt "the challenge" much this past week, we've been having a lot of fun playing with it & teasing each other.